Groups
Part One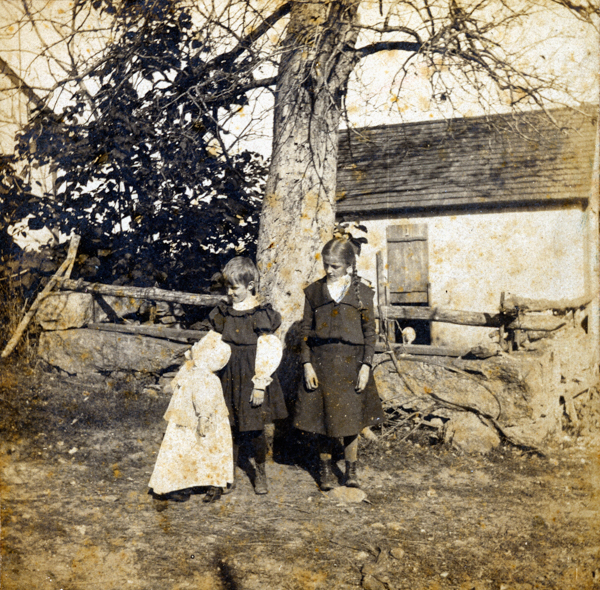 Group of three children under a tree.
L-R Scott, Catherine and Isabel Bryan at the pig pen at Cherry Farm on Moose Hill Rd. (identified by Scott Bryan) The Thoams Gould house 172 Moose HillRoad built in 1709.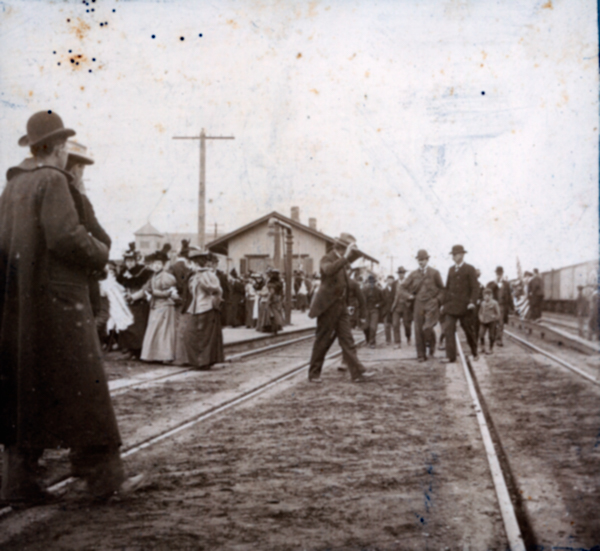 Assembly at railroad station
To see Guilford Battery off to camp at Niantic at the outbreak of the Spanish American War.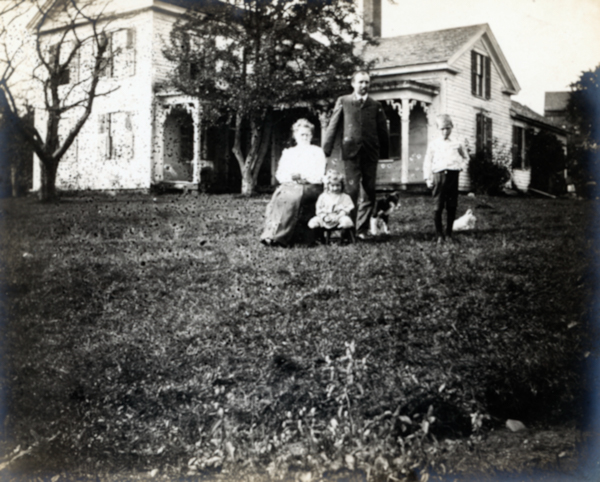 Man, woman, 2 children and a dog sitting on the lawn with large house in the background.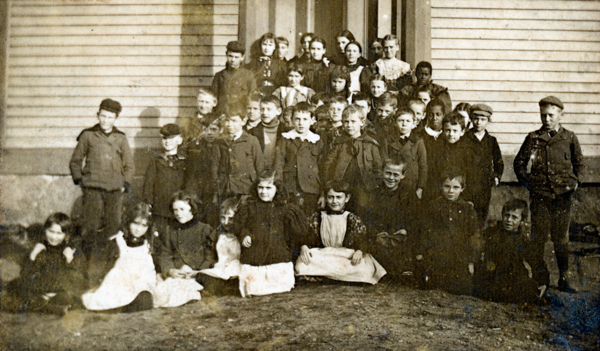 Originally there was a lake at the front of the lot and the school was in the rear almost Church St. The building was moved by oxen according to Marie Griswold after she moved to Fair St. in 1910. backside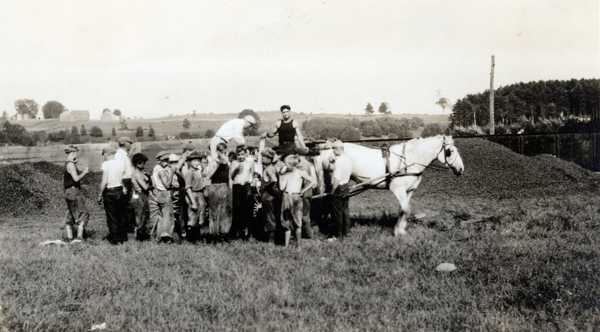 Men and boys in field, refreshments.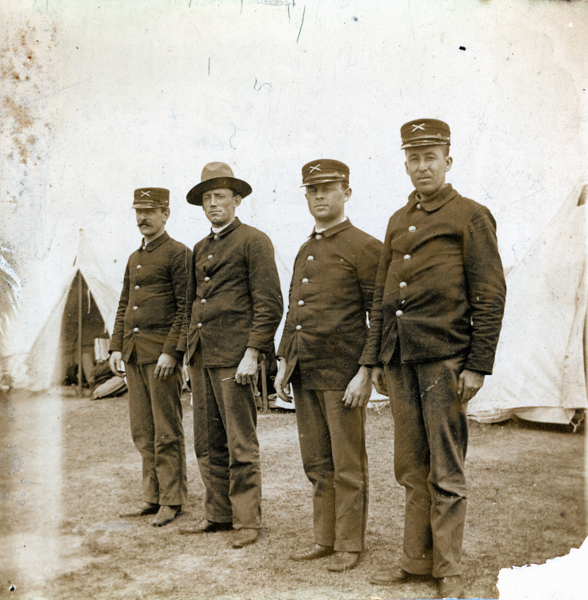 Members of the Guilford Battery
L-R Robert Oughton(?), Charles Barnes, John Daile? Dailey, James Wildman at the training camp in Niantic at the outbreak of the Spanish American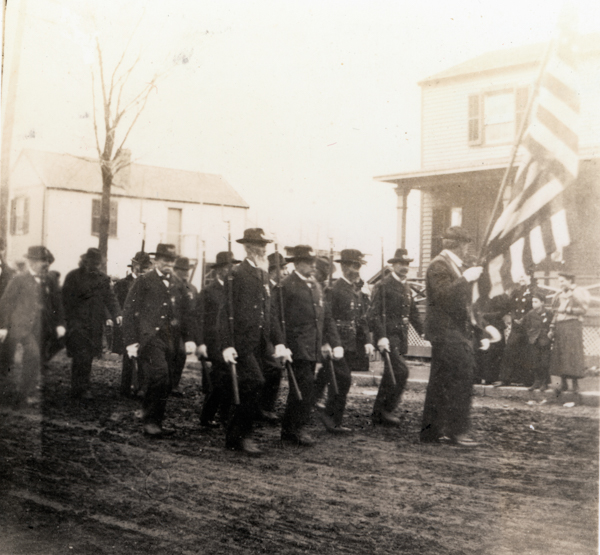 Roger Davis with white beard, Samuel Griswold, O. Dell Chittenden carrying flag, A.G. Somers in back of Chittenden. Taken on Water Street at the corner with Whitfield Street. (Hotel is on the right - in 1975 this is where Monroes Drug Store is)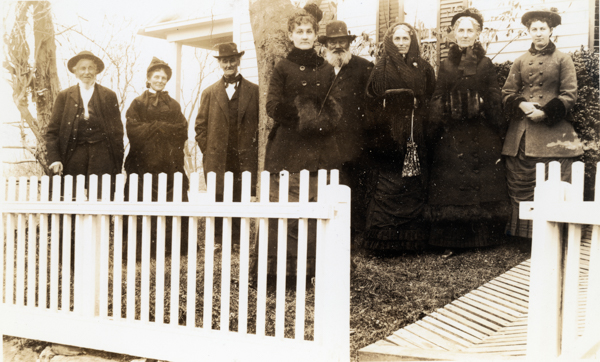 Harriet Hunt Bryan (4th from the left) Thanksgiving Cherry Farm Mrs. Bryan's home #177 Moose Hill Hoad, before she lived at Guilford Point.According to Scott Bryan, on left is Horace Norton, 2nd from r. Kate E. Hunt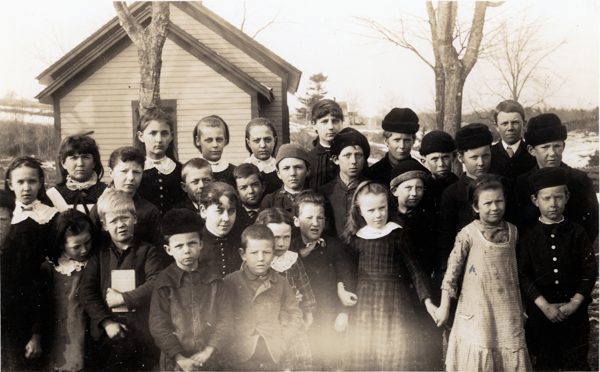 Part of the Leete's Island Children Leete's Island School, Leete's Island
1st row Willie Anderson, Burdette Leete, Abbie Leete (teacher), Mary Bergen, Mary Dolan, Hulda Anderson, Kate Dougherty. 2nd row Josephine Leete, Sophia (Mary) Barrett, Park Culver, Wayne Leete, Irving Leete, John Dolan, George Watrous, Dwight Bartholomew. 3rd row Mary Dougherty, Nellie Leete, Sarah Leete, Helen Culver, Fanny Leete, Elmer Anderson, Harry Watrous, Clarence Leete. Identified from M.Morasky's photo, she was the teacher's granddaughter.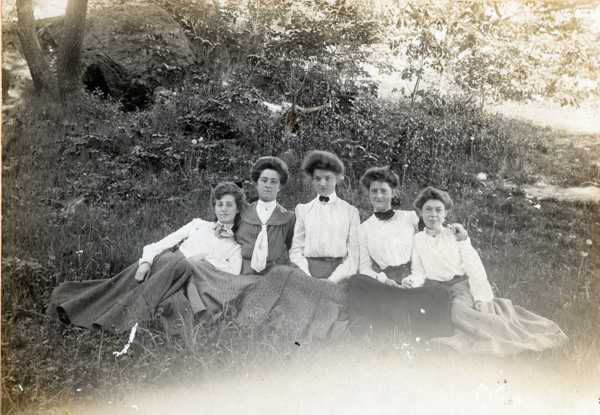 1903 High School graduating class
Auto Photo Co. Bridgeport, Ct.
Lillian Yale, Lunette Hull (Pitts), Vera Parmelee, Florence Beebe _(Rowland), Edith Lewis Edith Lewis was Marie Griswold's English teacher, also daughter of the principal and lived on Fair St. Vera Parrelee was Earle Leete's wife.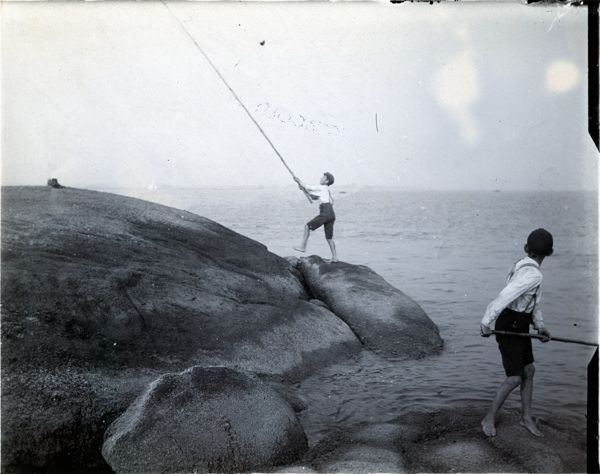 Two boys fishing on seashore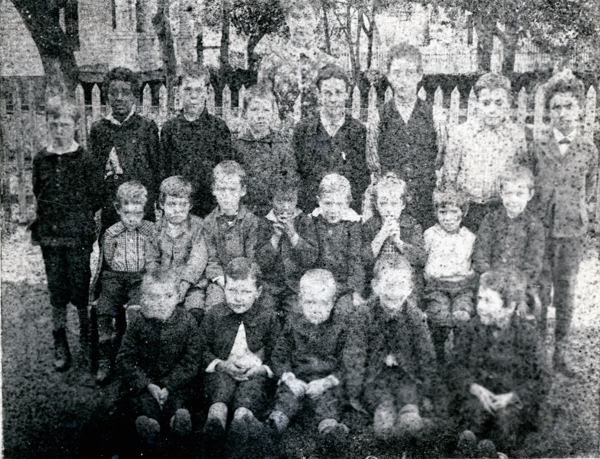 Teacher Miss Eva Buckingham, Back row L-R Frank Rossiter, James Williams, Harry Watrous, Fred Rolf, Robert Oughton, Fred Cargil, Charles Field, Roy Wingood, Middle row L-R David Rossiter, Bert Butler, George Bradley, Ernest Williams, Fred Fuller, Truman Norton, Frank Bennett, Rowland Blatchley. Front row L-R Louis Coulter, Charles Hubbard, Otis Storer, George Watrous, John Hannon The old school which was just west of the present (1975) building inside the present palisades fence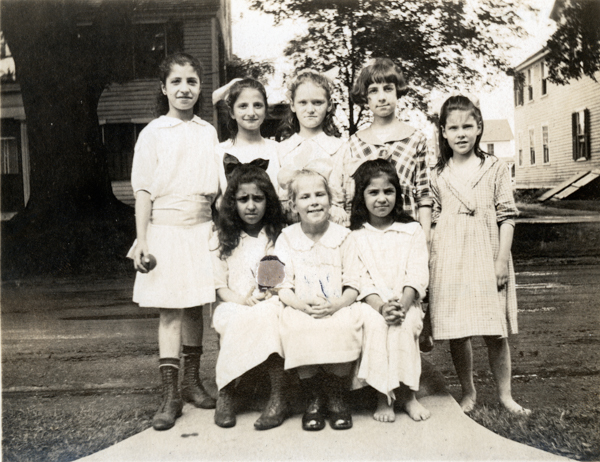 Group Fresh Air Children in Guilford two weeks
Dolph Mrs. F. Spencer Not local children.
L-R Frank D. Spencer, Henry Prout, G. Willis Hull.
Taken at Indian Cove. Spencer was from the Fair Street foundry. Prout lived on Muberry Point. Marie Griswold's father used to get clam chowder at Prout's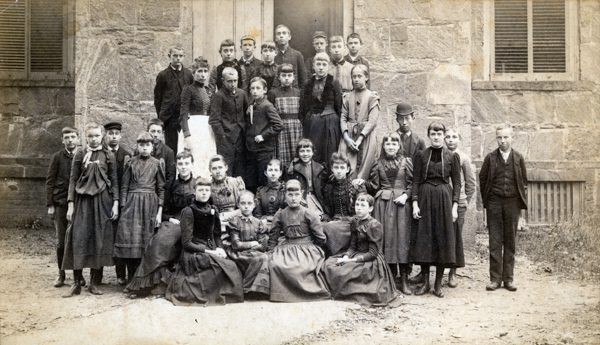 Teacher Miss Griffing S.S. Davis According to Shelton Dudley, upstairs refers to 7th and 8th grade classes held upstairs at the High School (The Institute). Henry S. Davis 3rd row from front, 2nd from left with hat is Sarah Spencer (later Mrs. Henry Davis) 2nd row from back on far right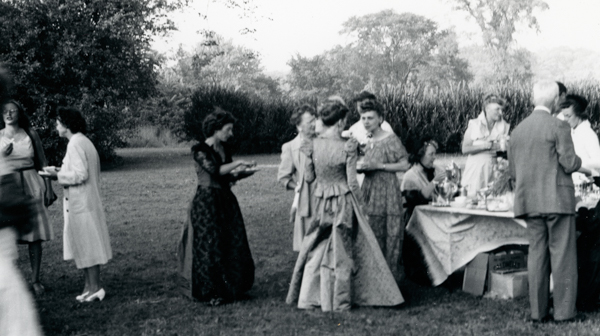 Guilford Keeping Society tea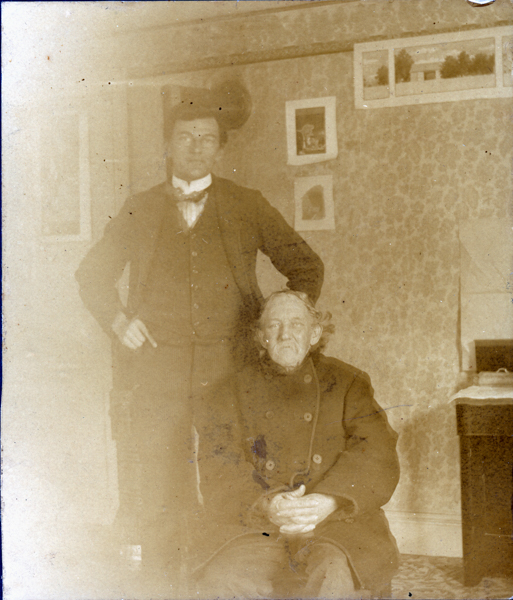 Charles Hubbard and his father Charles Daniel Hubbard and George Henry Hubbard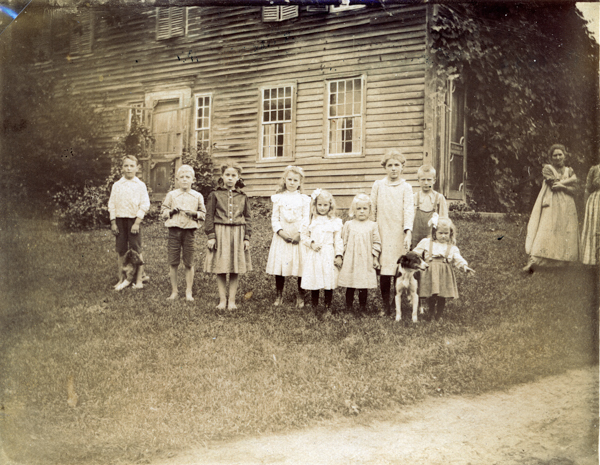 A group in front-of the Glen House (Pelletier Leete House) on Route 146.
According to Scott Hunt Bryan it is the Peletiah Leete house. Mrs. Glen changed the doorway. It used to look like this picture. Note: 1991-This is not the Peletiah Leete house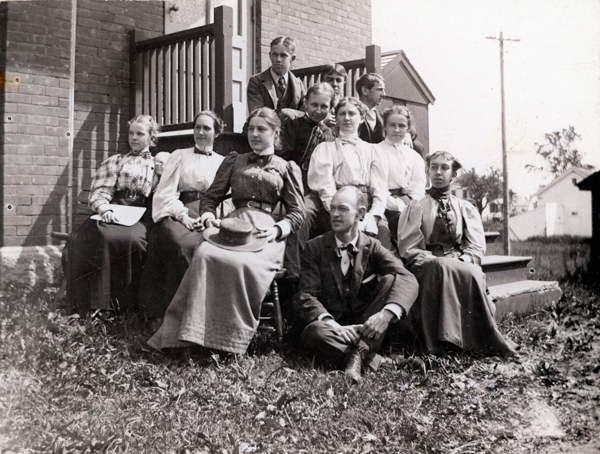 High School Graduation Class taken at southeast corner of Town Hall
L-R Charlotte Griswold, Katherine Shea, Edna Smith (lower), Arthur Dudley (upper), Florence White, Percy Kelsey, Clara Belle Rossiter (lower), John Dudley (upper), Eunice Sawyer, Susan Burr, Principle Hyde (foremost)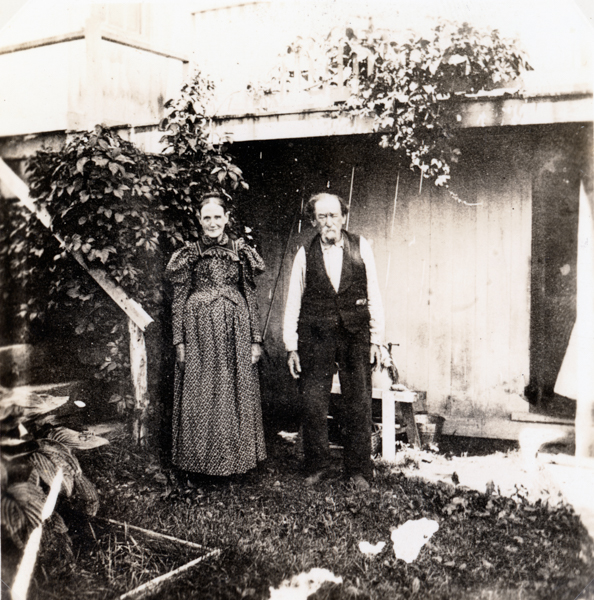 Earle Leete identified the man as Edward Norton who lived in the William Charles Chittenden house at the corner of Three Mile Course and Boston Post Roan, built circa 1840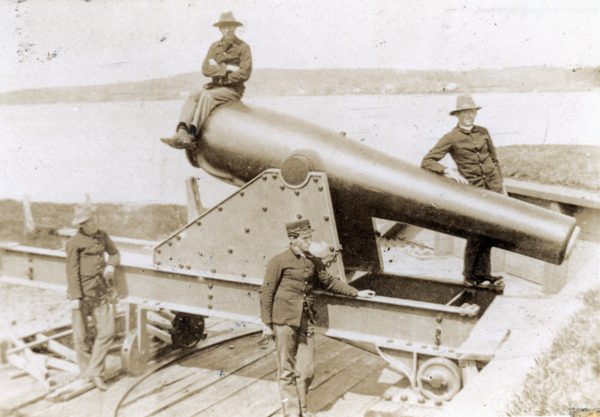 Members of the Guilford Battery at the Niantic Training, Camp at the outbreak of the Spanish American War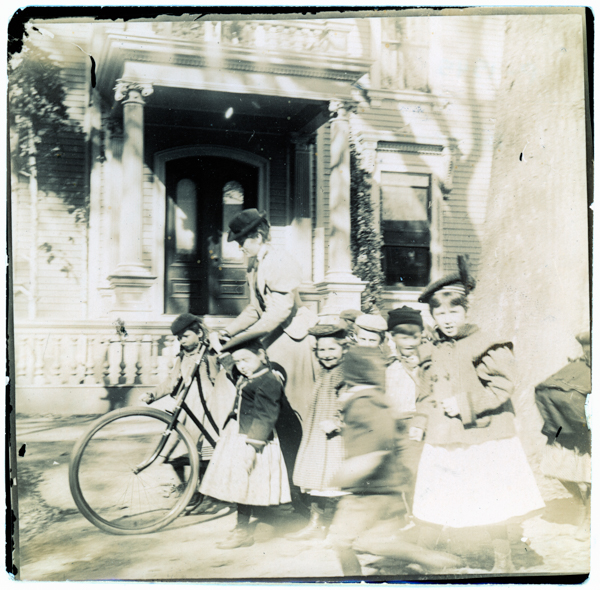 Harriet Bishop Lee and her school children
She taught in the State Street School near where Miss Nettleton lives now (1975)• Taken in front of 1st Congregational Church parsonage on corner of Broad and State St.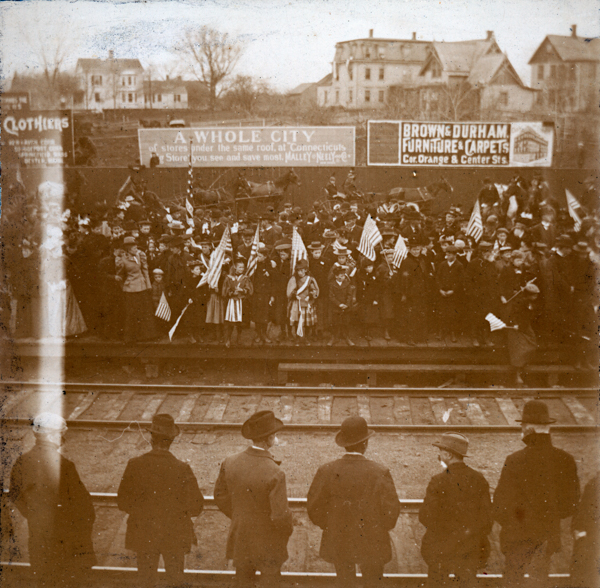 Sendoff for the Guilford Battery from the railroad station.
Going off to training camp at Niantic at the outbreak of the Spanish American War.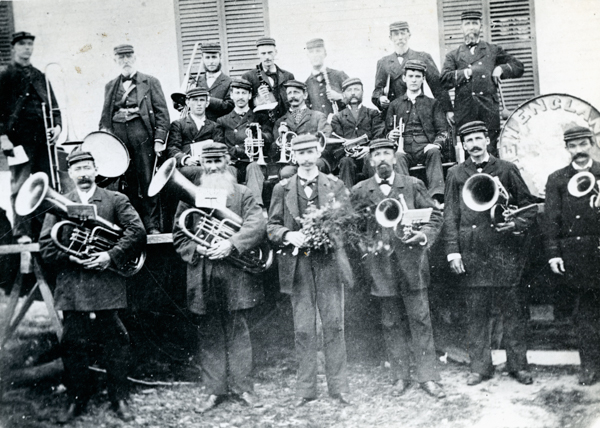 New England Band - Guilford - Killingworth Fair
Pre 1890 (date Mr. Snow was trampled by an ox)
L-R top: Joe Perry, Augustus Hall, Ed Bartlett, Frank Stearns, Rob Foote, Douglas Loper and Hiram Hall. 2nd row L-R: John H. Hotchkiss, Frank Hill, Chester M. Lee, Henry D. Chittenden, and Mickey 0'Brien of Branford. Bottom L-R: Edmund Jillson, S. Virgil Hotchkiss, Henry E. Fowler, Sylvester Snow, Wm. Fowler, and George Benton Original owned by David Dudley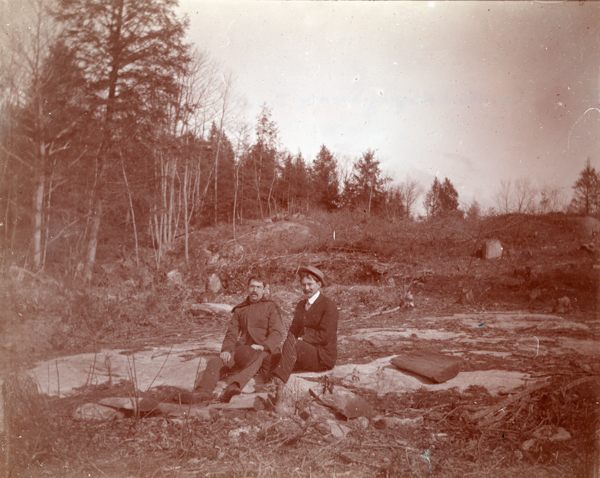 Albert Hotchkiss and George Watrous (maybe)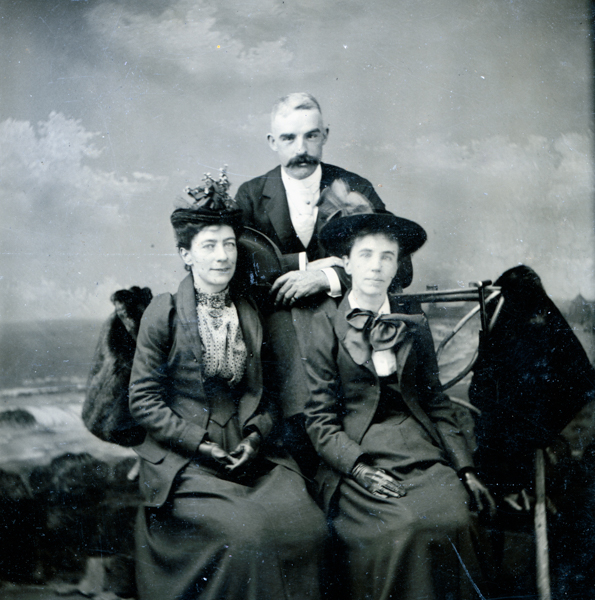 George & Jennie Stone Georgiana Norm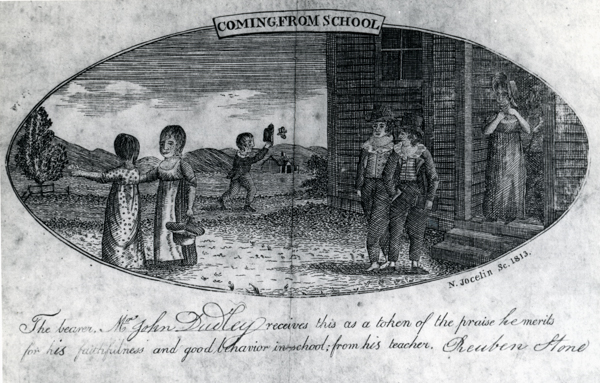 School achievement award to John Dudley signed by his teacher Reuben Stone 1813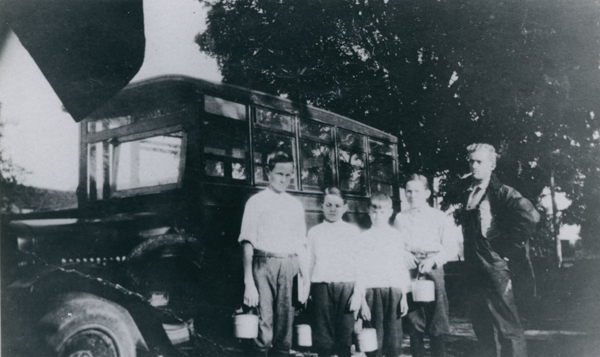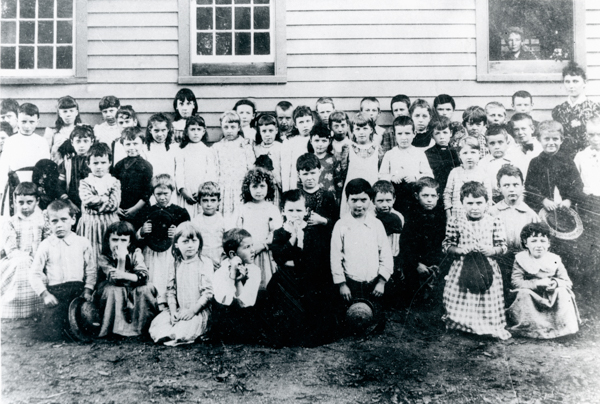 Whitfield Street School class early 1890s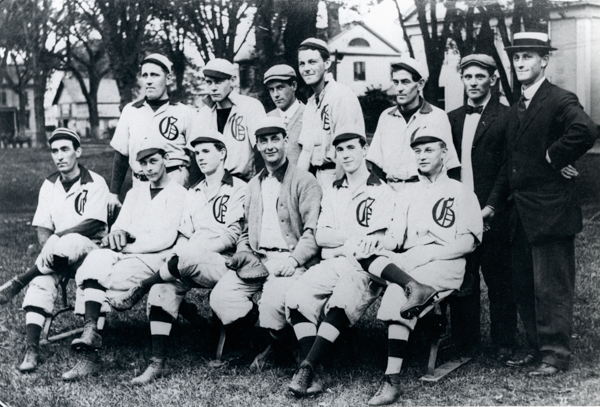 Guilford Baseball team 1910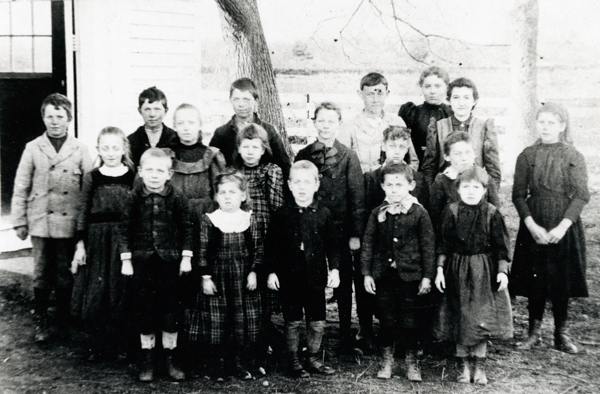 Nortontown District School class (check picture drawer for names)
South School house and class on 2624 Long Hill Road c1890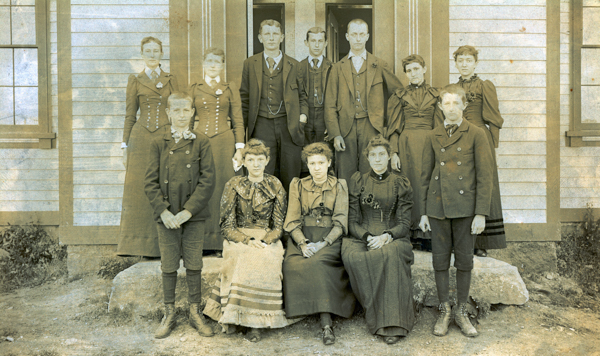 The New Academy, Private School,
The North Guilford Hall. Top row Ellen Rossiter, Ella Rossiter, Hosmer Potter, Ralph Bartlett, C.O. Bartlett, G. Hill, Mable Dudley, bottom row Ned Bartlett, Mary Bartlett, Anna Wicks, Mable Chittenden, George Chittenden c1890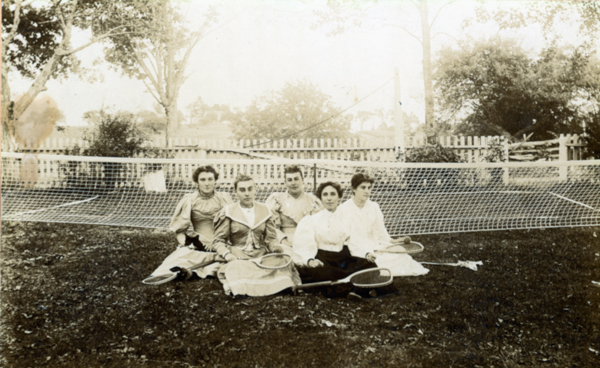 Women tennis players in front yard 1890
(l-r) Ruth Chittenden,-,-, Lucy & Mabel Chittenden 1890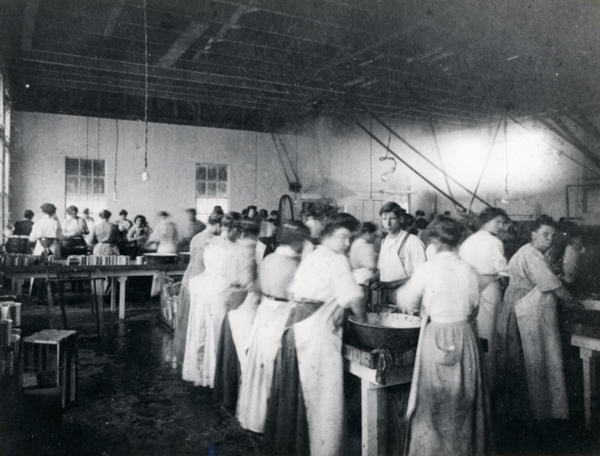 Knowles Lombard Company tomato cannery next to Guilford Railroad Station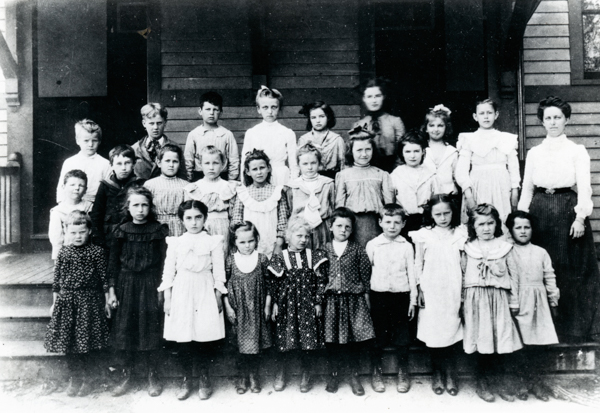 Leetes Island School class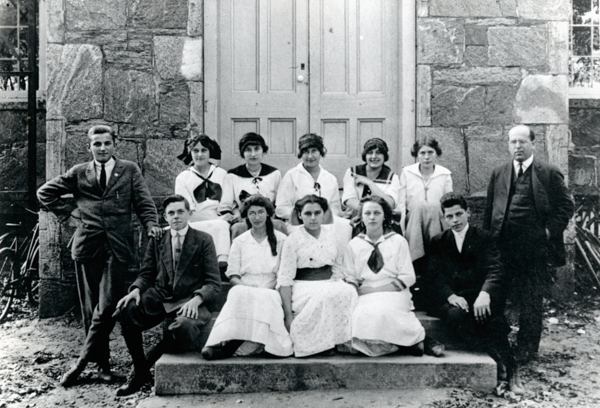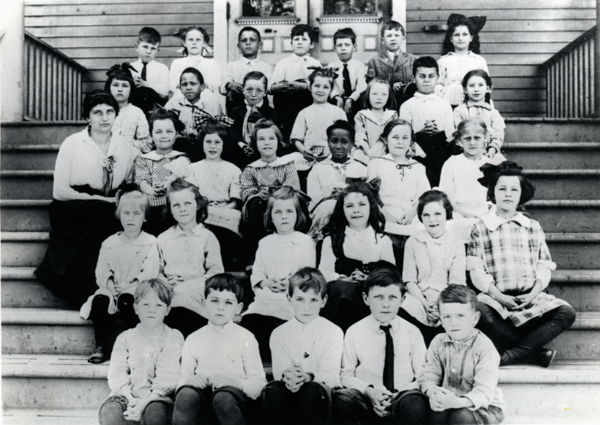 Boston Street School class 1916 1916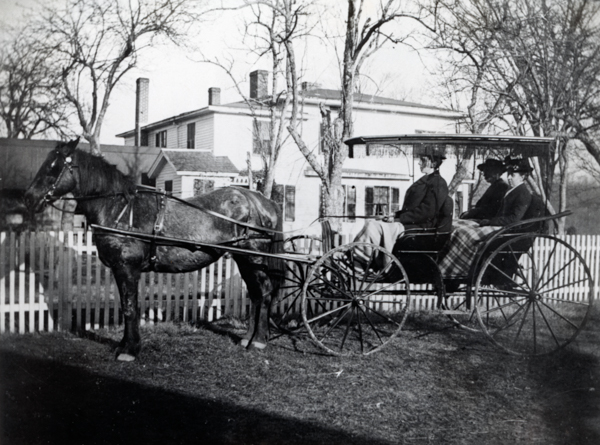 People, horse and carriage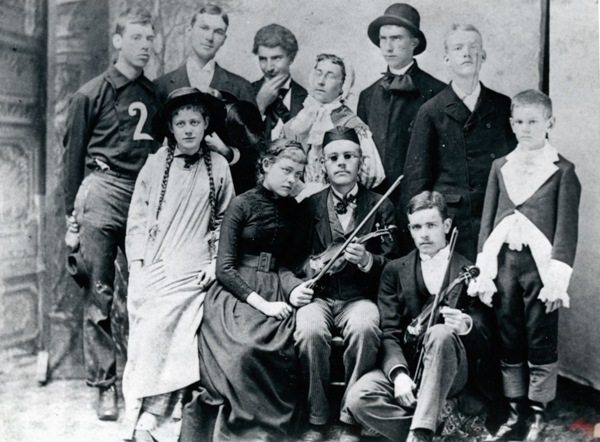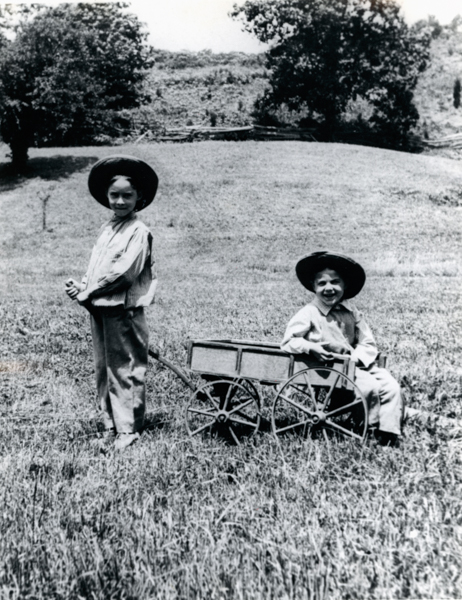 Dwight Potter and Clarence Potter on Country Road at Christopher Columbus Rossiters homestead c1912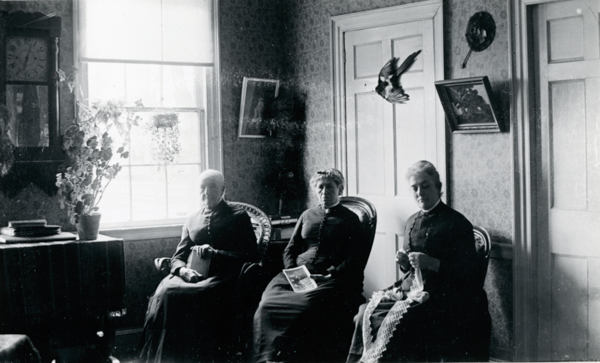 Mrs John Kelsey, Miss Martha Russell, Mrs Aletha Graves 1887 May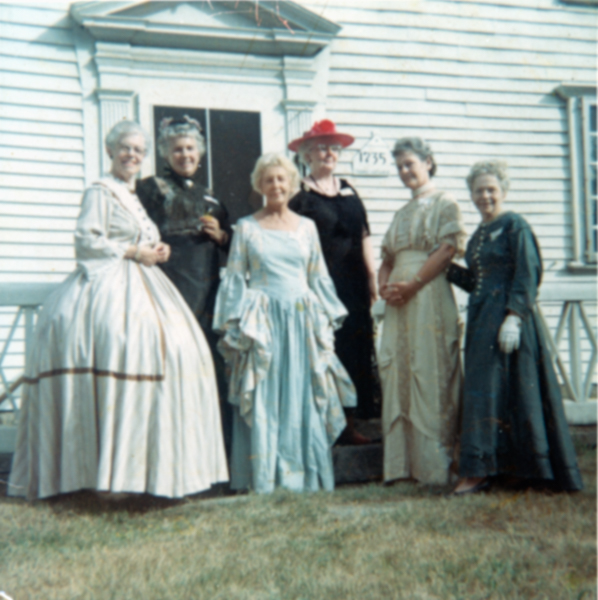 Guilford Keeping Society Antiques Festival
(l-r) Louise Bishop, Euphemia Freeman, Adelaide Murray, Mrs H. Hossiter, Louise Mathers, Ethel Coleman 1966 July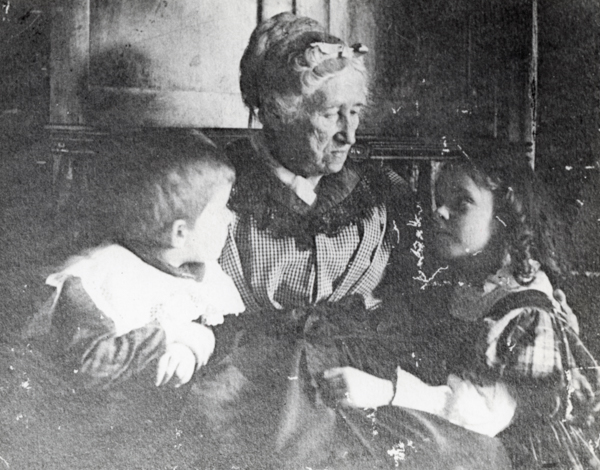 Mary Hubbard and children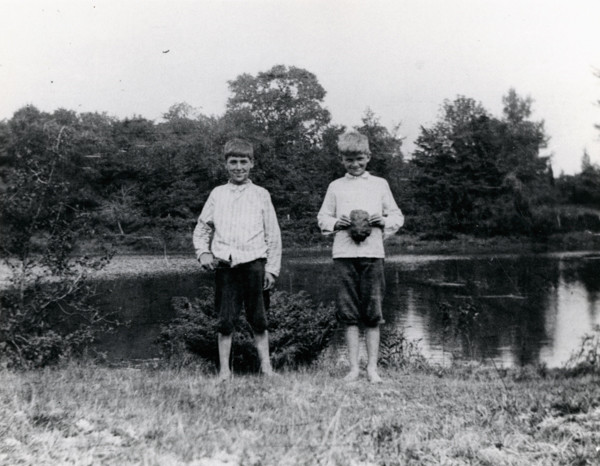 Two boys with wood turtles. Irve and Bert Rossiter at Baldwins Mill Pond 3035 Long Hill Road 1920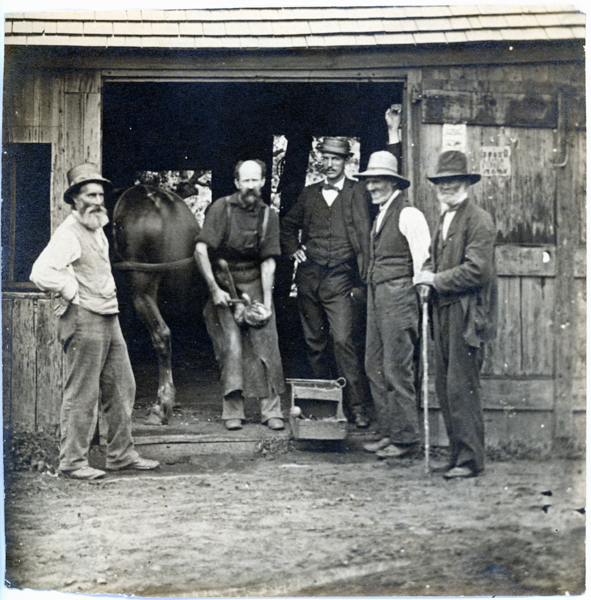 Harvey Leete (1832-1919) and lookers at his smith shop.
Harvey or probably Henry Leete shoeing horse L-R A.B. Palmer, Harvey Leete, Ed Stone,—,— Blacksmith shop on present Route 1 app. #1123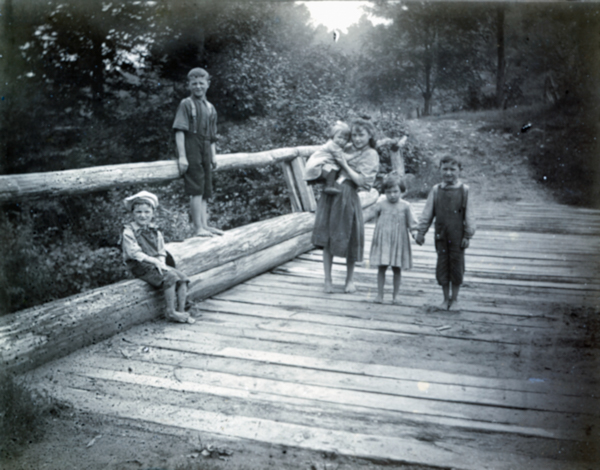 Group of six children on wooden bridge.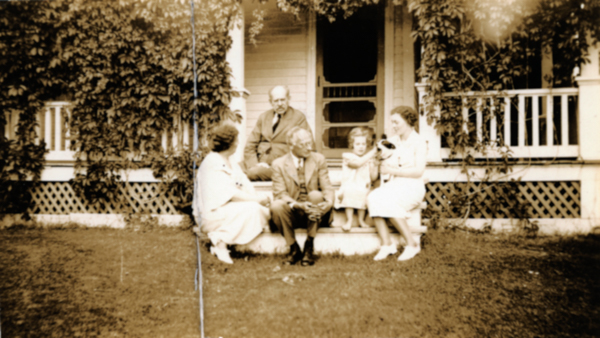 Charles D. Hubbard 2nd from the left on the bottom step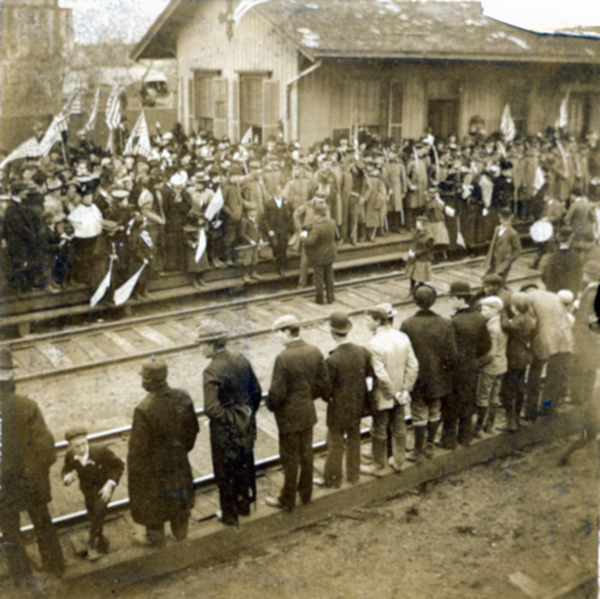 Battery boys leaving for Camp at Niantic, Spanish War 1898
Taken at Guilford railroad station. Photo donated by A.L. Hotchkiss, Guilford Ct.
The home guard in front of the Town Hall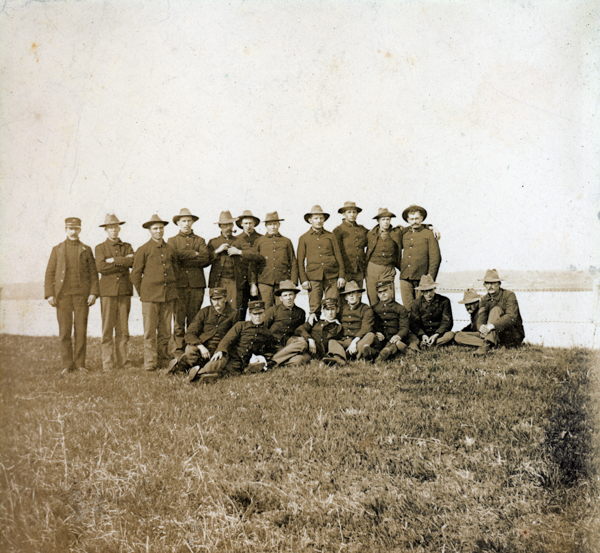 Members of the Guilford Battery
At the Niantic Training Camp at the outbreak of the Spanish American War.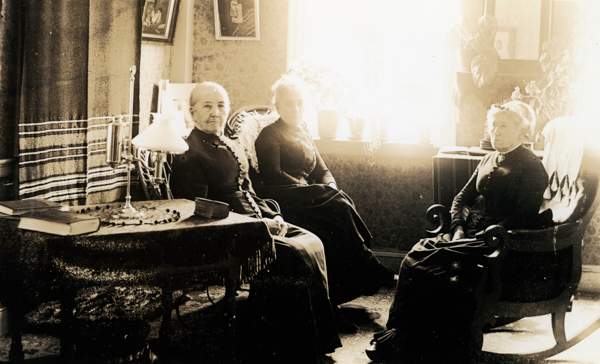 Mrs. John Kelsey, Airs. Aletha Graves and Kiss Martha Russell
In the living room of Mrs. Kelsey on Water Street (the house with pillars across from the Post office)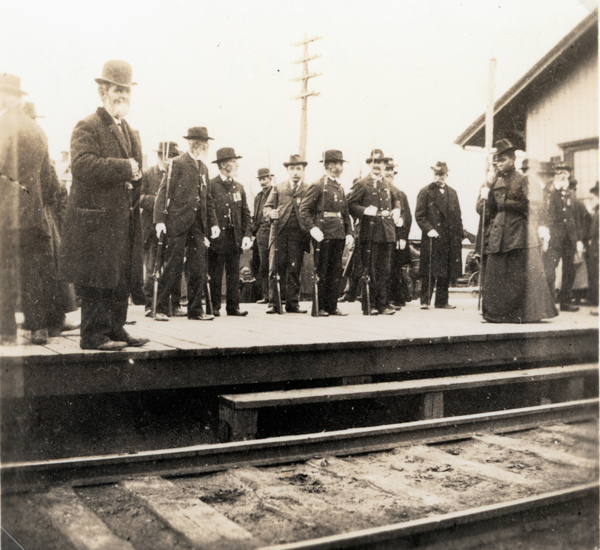 Assembled at the Guilford railroad station as an escort to the 1st platoon, Battery A, off to training camp at Niantic at the outbreak of the Spanish American War. L-R Captain Charles Griswold (rear view), Mr. John Eliot, Roger Davis, Wheatley, Connie Shea, Coxie Sullivan (in line with pole), A.G. Somers (2nd right from the pole) and William Hull (with cane).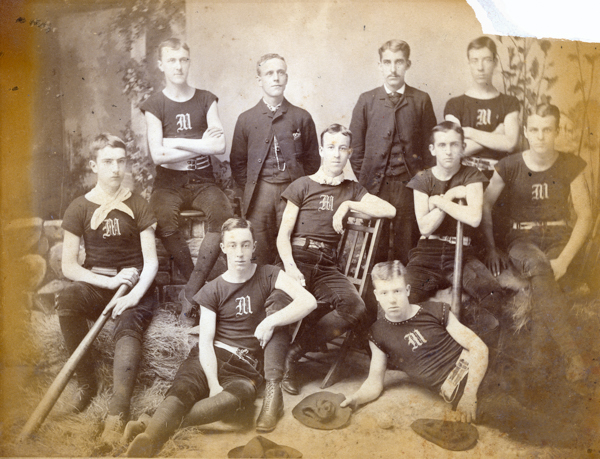 Baseball team, Guilford boys
Top L-R Harry Blatchley, Charles Barllem, Ellsworth Hull, Dave McIntyre. 2nd row L-R George Landon, Frederick James Wildman (identified by descendent Kathleen Bradley Dec 1990), Alfred Griswold, Joseph Evarts. 3rd row L-R Edwin Spencer, John McIntyre. Wildman lived next to the Hyland House; Al Griswold where Guilford Savings Bank is (l975) according to Shelton Dudley. Ed Spencer was a foundry Spencer and an uncle by marriage of Marie Griswold. She said Al Griswold lived backside.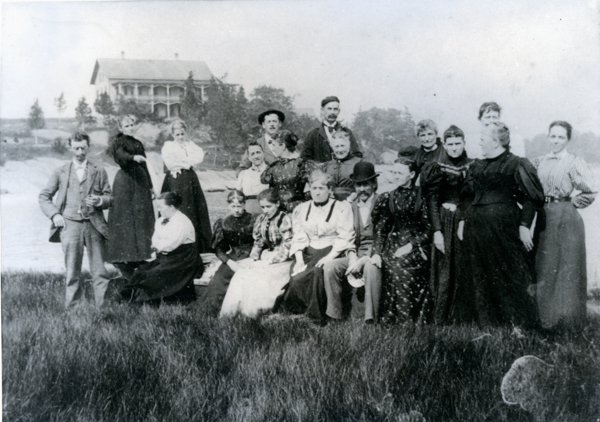 Lady's Auxillary to Civil War Veterans.
Relief Corps Picnic at Sachems Head Hotel 1.George Bradley (Sheriff) 2. Alvira Benton 3. Fannie Bulter 4. Mrs George Bradley 5. Carrie Rowland 6. No ID, 7. George Wheeler (butcher) 8. Mrs. William Fowler 9. A.G.Somer (barber) 10. Eva Jillson 11. Addie Chittenden 12. No ID 13. George Rolf (liveryman) 14 Mrs George Rolf 15. Mrs Hair 16. Mrs Chester Lee 17. Eva Lee 18. Mrs White (Care White's mother) 19. Mrs Charles Gladwin.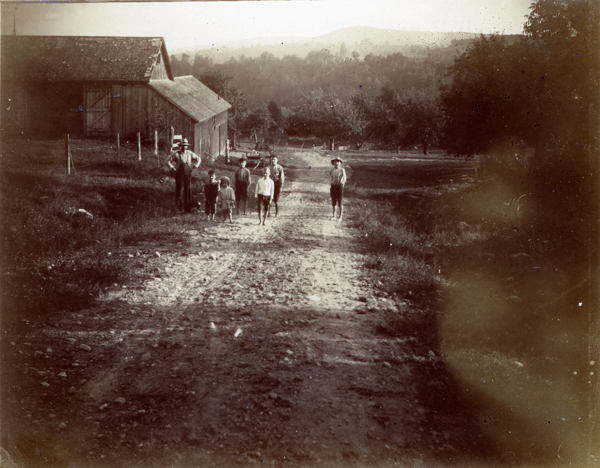 Men and children on road near barn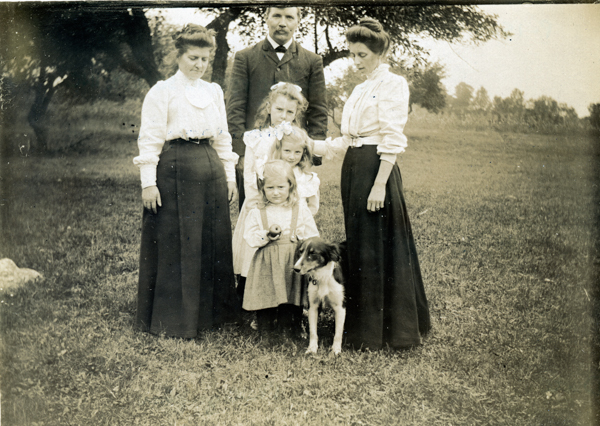 Family posing outdoors. Granby, Connecticut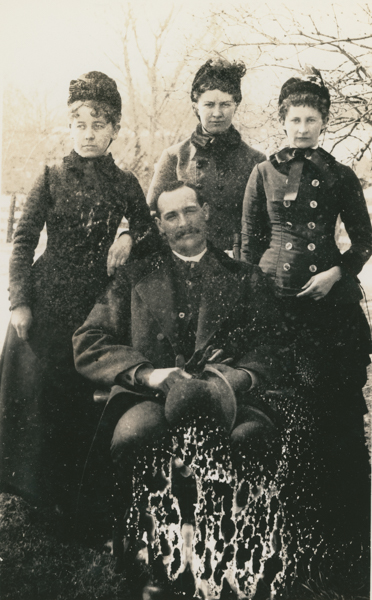 Mrs. Ed Griswold, Clapboard Hill, i.e. Abbie Leete
L-R. Abbie Leete , Mary Bulter, Fanny Bulter, Leon Bulter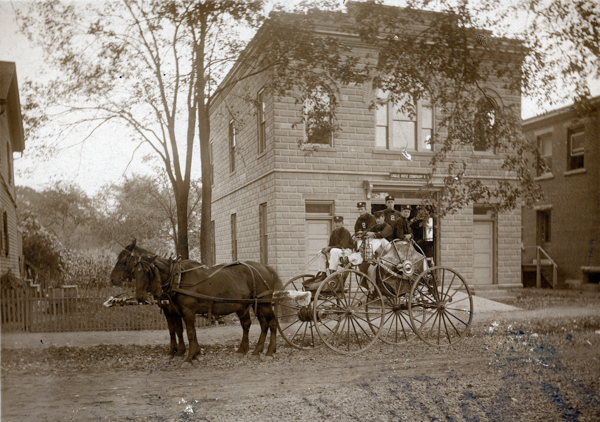 L-R Earle Jones, Harry White, Leslie Dudley, Bert Baldwin, Lewis S. Coulter
after 1907 (building built then)
Taken in front of Eagle Hose Co. on Whitfield Street.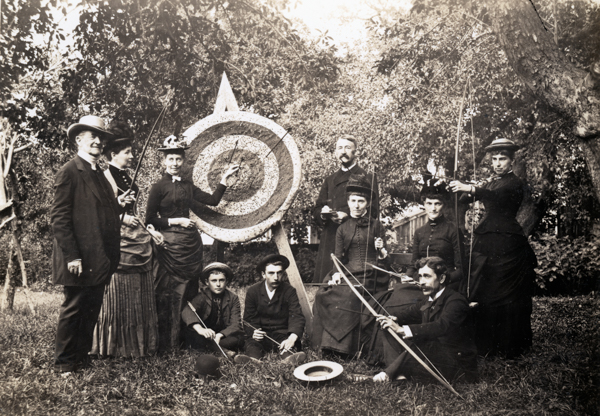 L-R Rev. Lorenzo T. Bennett, D.D., Mrs. George Griswold, Mary Hopkins, Bert Bishop, George Landon, Rev. George Griswold, Ruth Hopkins, Henry P. Robinson (seated), Mrs. Scott Bryan, Mrs. Thomas Landon. (B.Bishop and G. Landon are the two boys seated on the ground).
Guilford Keeping Society tea
L-R Mrs. Walker Nettleton, --, --, Julia Hunt, Dot White, --, --, Mrs. Bohonon, Dorthey Glen seated or nright next to last unidentified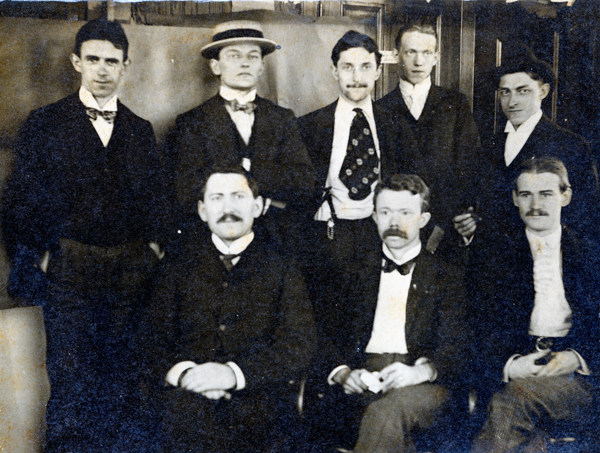 Charles D. Hubbard 2nd from the left in the back row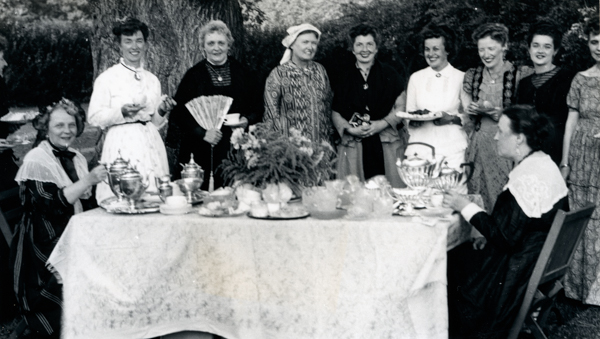 Guilford Keeping Society tea
L-R Mrs. Walker Nettleton, --, --, Julia Hunt, Dot White, --, --, --, Dorthey Glen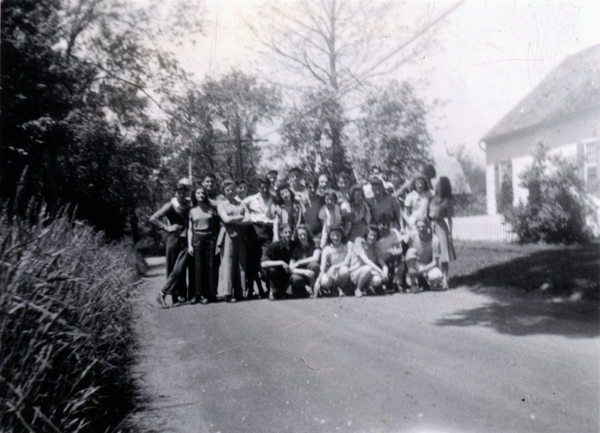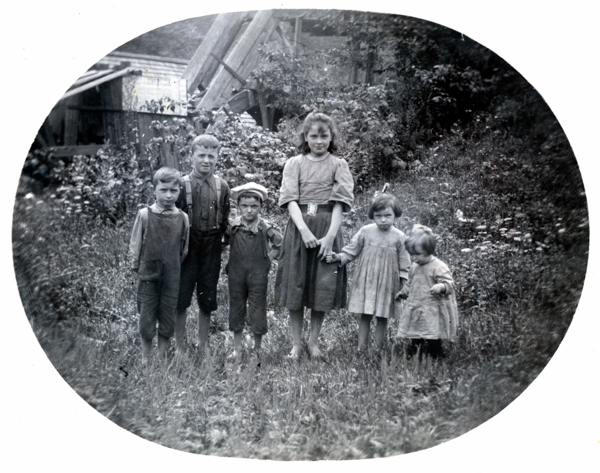 Not labelled. Six children in field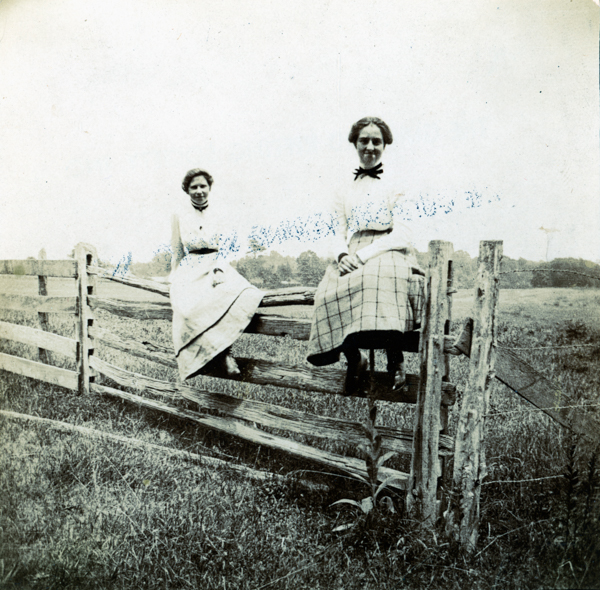 Two women on fence railing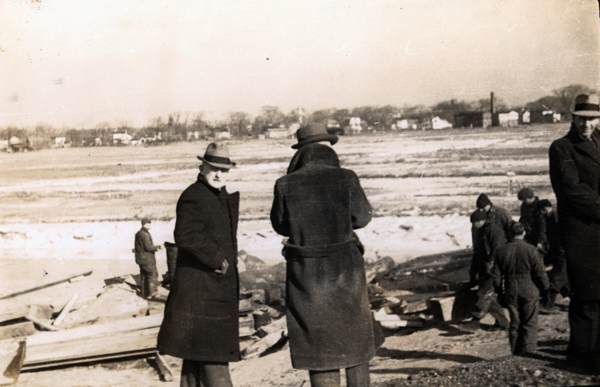 Leonard Short and George Oliver at the changing over of the track West River to Footes Curve.
West River is in the background. High and South Fair Streets are in the background on the right.
Members of the Guilford Battery at training camp in Niantic at the outbreak of the Spanish American War.
L-R unknown, Charles Barnes, Nicholas Linsky (maybe), Jim Northman, Will Hotchkiss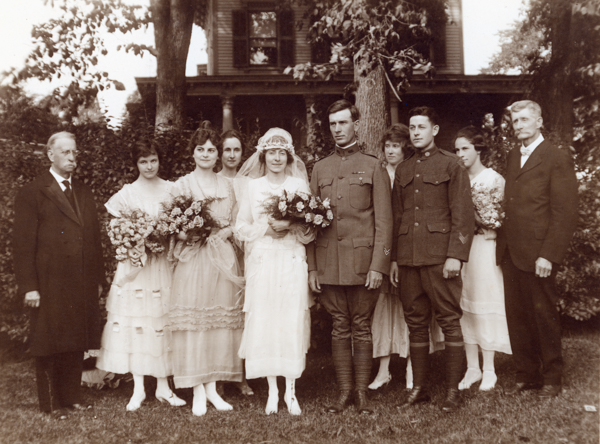 - Maude Forbes - McElroy Rev F.E. Snow, Miss Elsie Scott. Miss Esther Anderson (maybe), Maude Forbes, Mr. McElroy, unknown, Miss Grace White, Miss Dorothy Hofer and Mr. Cornelius Forbes Myma D. Monroe (more information on backside of card)
Three children in the West River. Taken from the West River Bridge Rt. 1 looking south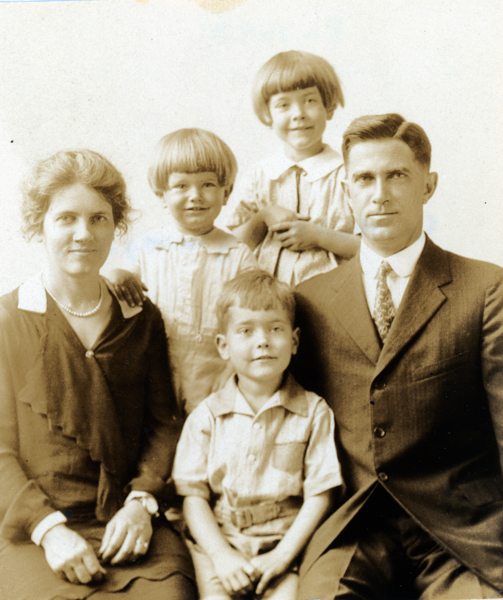 Raymond Dudley and family Katherine, Robert (b.1926), Constance, Raymond Dudley, Winston Dudley in front.
Identified by Edith Nettleton.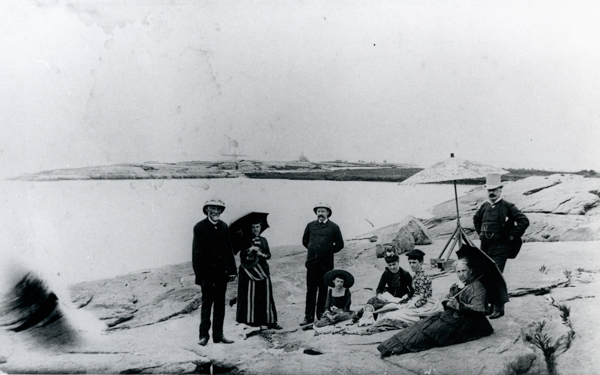 Family on Sachem's Head Rocks 1886 July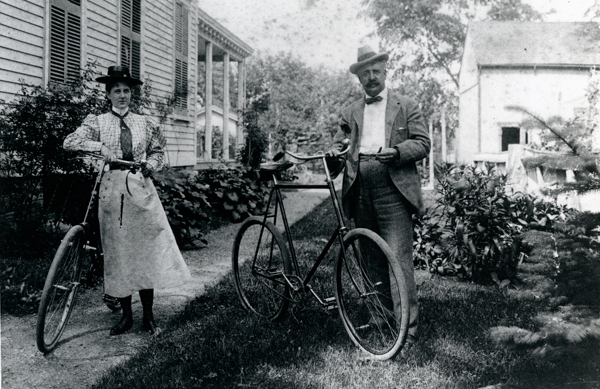 John Barcourt and his daughter with bicycles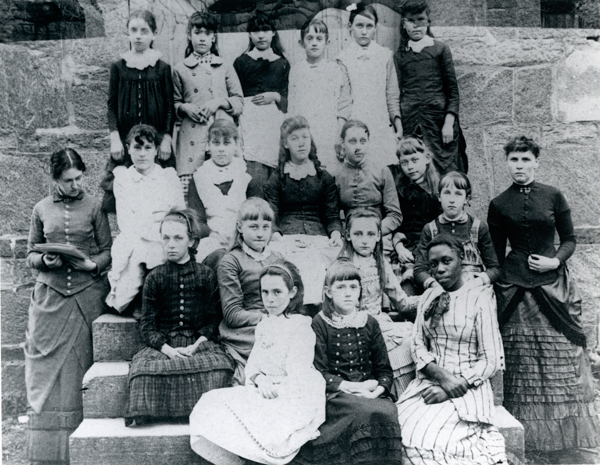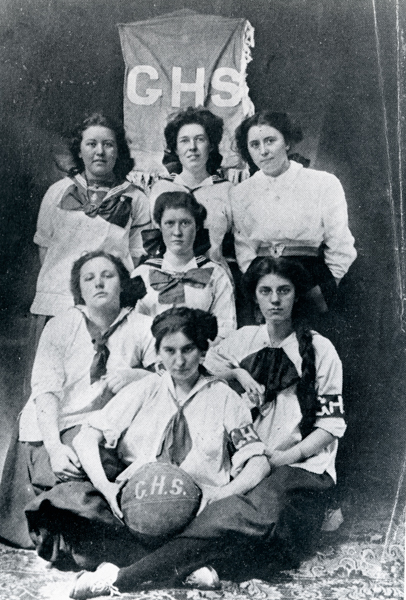 Guilford High School Girls Basketball Team 1910
Guilford High School class of 1912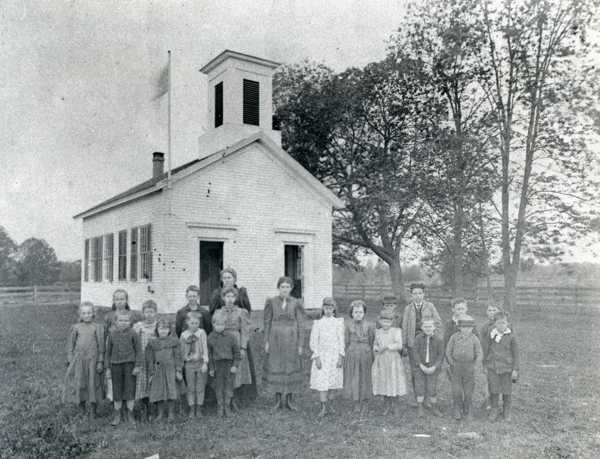 Nortontown District Schoolhouse and class (check picture drawer for names)
Schoolhouse Leete's Island and class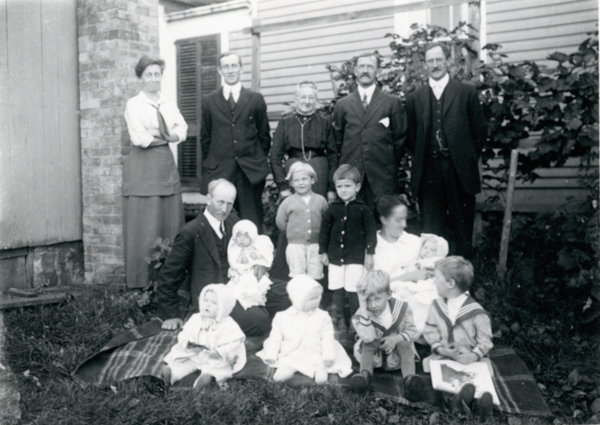 Spencer family gathering (b)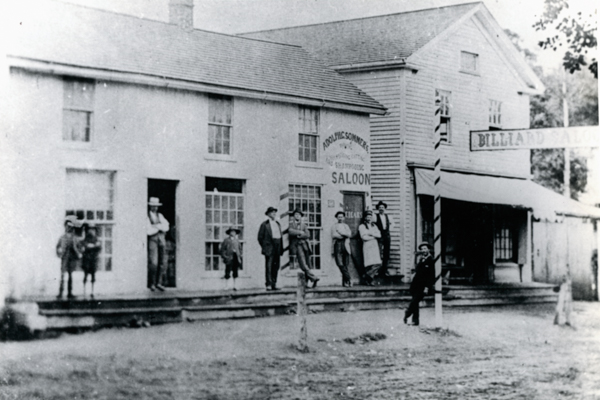 Buildings at north side of Water Street near the Green.
Burned c1887. Present site of Norton Brick Block – Dudley + Beckwith at 11 Water St. c1875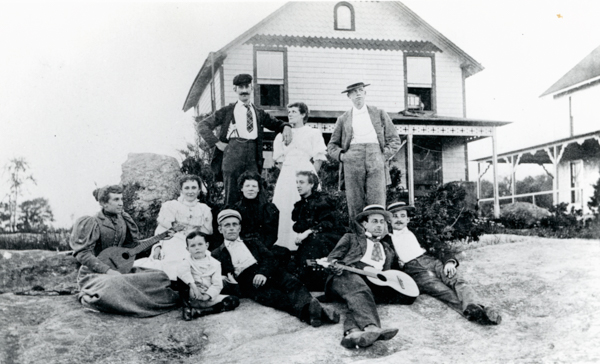 Group on rocks in front of summer cottages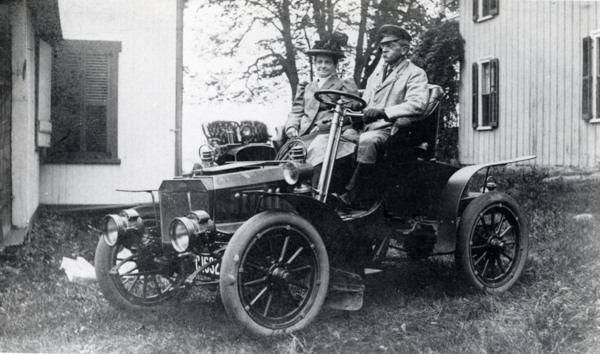 Anna Wicks and Baldwin C. Dudley
Boys repairing bicycles, far right Fred Rowland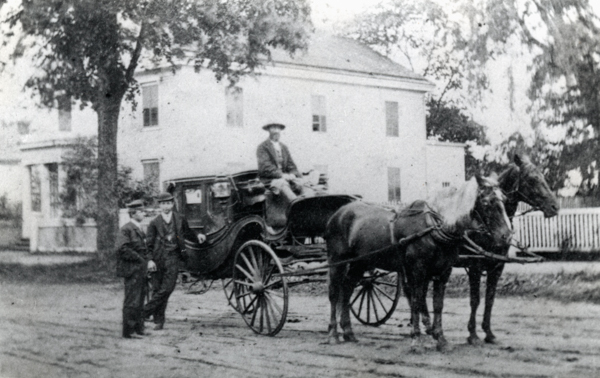 People in buggy before house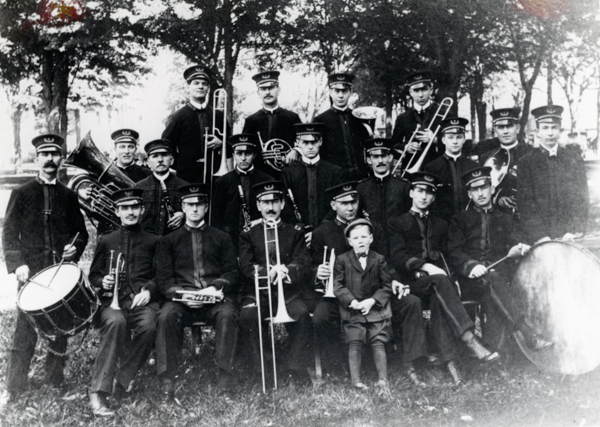 Buell's Band on the Green c1905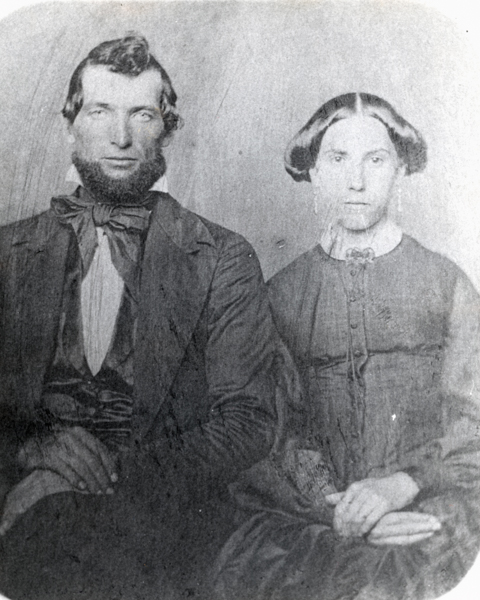 Wedding portrait of Forrest Ward b.1824 from New Haven and Amelia Eliza Scranton b.1831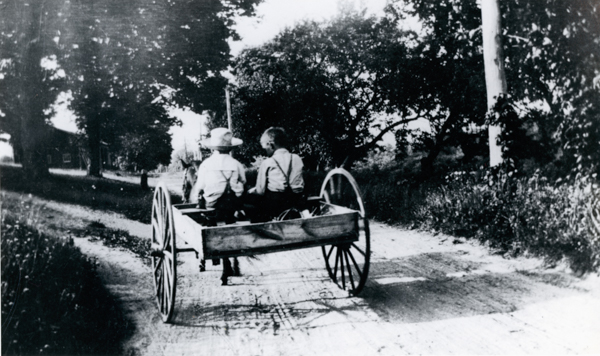 Edgar and Edwin Bartlett in front of their home and saw mill on Great Hill Road c1921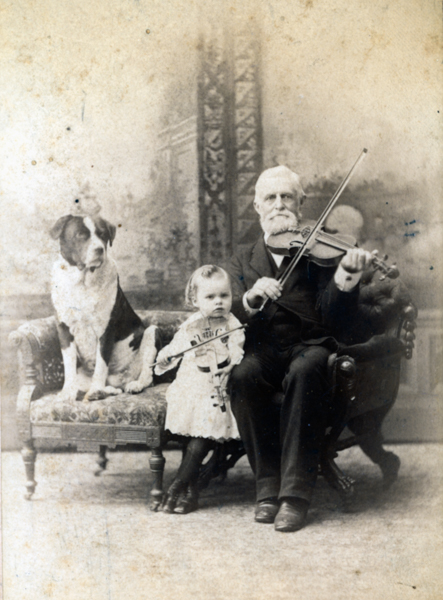 Lighthouse keeper Capt. Oliver N. Brooks and Oliver Husted and Tige the dog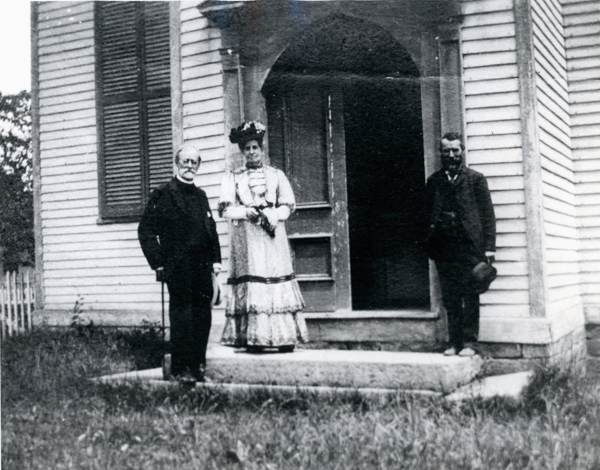 Reverend George and Mrs Buck on steps of Saint John Episcopal Church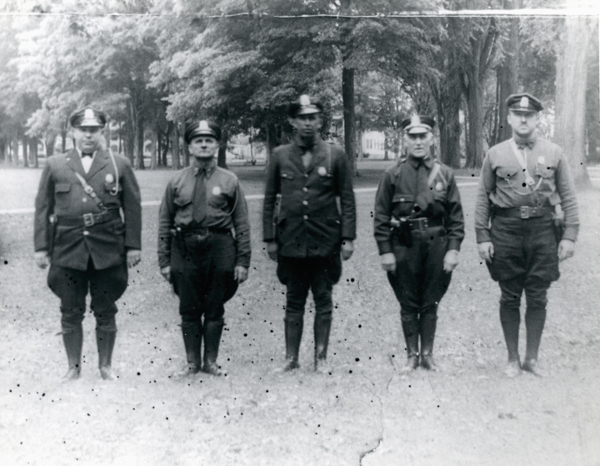 Police officers on the Green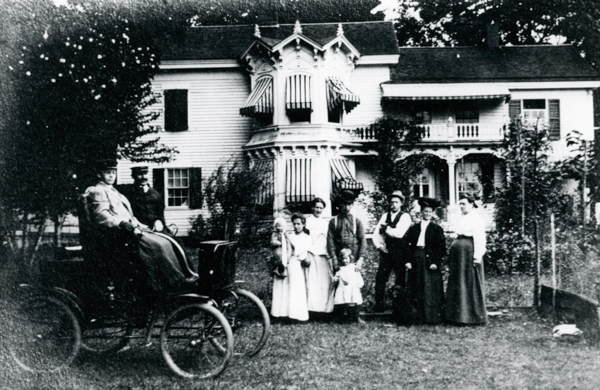 Automobile and family assemblage in front of house